Singles make a lot of mistakes when searching for a spouse! Among the numerous mistakes they make, the one that is most common or more crucial is the one we are talking about today! 
(Will talk about others in other publications).
Lots of people today while searching for their life partners focused on the CONTAINER only, not minding the CONTENT! Paying attention to the outward appearance without close consideration for the heart or the inner values!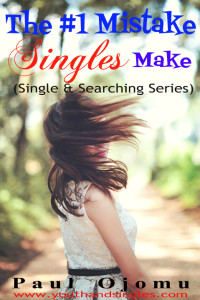 When Samuel was asked to go to the family of Jesse to anoint a king for Israel, he said the Lord's anointed is here the moment he saw Eliab the firstborn, it was really a case of "love at first sight", but God told him No!, And God said to Samuel, man looks at the appearance but God looks at the heart!
Did I hear you say, yeap! But I can only see the appearance! I can't see the heart! You are right! But there is someone who can see the heart!!! You only need to see through His lenses and you will see clearly the heart! God sees the heart!!!
You need to see with the eyes of God if you want to marry the right person! Not seeing through the eyes of God, or thinking I can do it all alone is the major mistake singles make!
The bible says a prudent wife is from the Lord! (Proverbs 19:14)…  same applies to a godly man!
When you say, you fall in love with a lady or a guy, what exactly are you falling in love with? Her container or her content?
Remember, man is a spirit dwelling inside a body, but sadly a lot are falling in love with just the body not minding the real person inside! May the lord help you to be wise in order to choose wisely and correctly?
Many ladies and guys are out there, with marvelous PACKAGING (containers) but with empty or worthless CONTENTS!
The same way some GOOD CONTENTS are being despised also because of their LESS ATTRACTIVE PACKAGING/CONTAINERS
Good contents should be nicely packaged, there is no doubt about that, but don't throw the CONTENT away because of the BAD PACKAGING/CONTAINER- the truth is that it's not easy to change the content but is far EASIER TO FINE TUNE THE CONTAINER!
If you are the one searching and looking out, pay attention to the CONTENT, like I said earlier it's easier to work on the CONTAINER than dealing with a bad CONTENT. You may be fortunate to find a good content with a good and godly container! It's not impossible, but in order of priority, it will be content first, then container second!
But if you are on the receiving end (especially ladies), then make sure you have a GOOD CONTENT, and a GOOD CONTAINER, by good container I mean, good and godly packaging, not excessive, sinful and worldly! Remember you attract who you are, your scent will determine the kind of attraction you will have! The way you dressed is the way you will be addressed. (You can read the article: "How to attract the right guy" on this blog)
If you really want to know how to find the will of God in marriage or how to really see through the lenses of God in real practical terms then watch out for our next article… "How to know the will of God in Marriage – seeing through His lenses"